This is a bit of a sermon by Peter Bohler, that John Wesley quotes in his journal: I believe it's volume 1.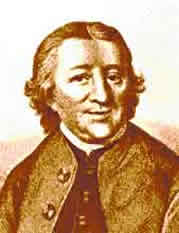 The word of reconciliation which the Apostles preached, as the foundation of all they taught, was, that we are reconciled to God, not by our own works, nor by our own righteousness, but wholly and solely by the blood of Christ.
But you will say, 'Must I not grieve and mourn for my sins? Must I not humble myself before God? Is not this just and right? And must I not first do this, before I can expect God to be reconciled to me?' I answer, It is just and right. You must be humbled before God. You must have a broken and contrite heart. But then observe, this is not your own work. Do you grieve that you are a sinner? This is the work of the Holy Ghost. Are you contrite? Are you humbled before God? Do you indeed mourn, and is your heart broken within you? All this worketh the self-same Spirit.
Observe again, this is not the foundation. It is not this by which you are justified. This is not the righteousness, this is no part of the righteousness, by which you are reconciled unto God. You grieve for your sins. You are deeply humble. Your heart is broken. Well; but all this is nothing to your justification. The remission of your sins is not owing to this cause, either in whole or in part. Your humiliation and contrition have no influence on that. Nay, observe farther, that it may hinder your justification; that is, if you build any thing upon it; if you think, 'I must be so or so contrite. I must grieve more, before I can be justified.' Understand this well. To think you must be more contrite, more humble, more grieved, more sensible of the weight of sin, before you can be justified, is to lay your contrition, your grief, your humiliation, for the foundation of your being justified; at least, for a part of the foundation. Therefore it hinders our justification; and a hindrance it is which must be removed before you can lay the right foundation. The right foundation is, not your contrition, (though that is not your own,) not your righteousness; nothing of your own; nothing that is wrought in you by the Holy Ghost; but it is something without you, viz., the righteousness and the blood of Christ.
For this is the word, 'To him that believeth on God that justifieth the ungodly, his faith is counted for righteousness.' See ye not, that the foundation is nothing in us? There is no connection between God and the ungodly. There is no tie to unite them. They are altogether separate from each other. They have nothing in common. There is nothing less or more in the ungodly, to join them to God. Works, righteousness, contrition? No; ungodliness only. This then do, if you will lay a right foundation. Go straight to Christ with all your ungodliness. Tell him, 'Thou, whose eyes are as a flame of fire searching my heart, seest that I am unholy. I plead nothing else. I do not say, I am humble or contrite; but I am ungodly. Therefore bring me to Him that justifieth the ungodly. Let thy blood be the propitiation for me. For there is nothing in me but ungodliness.'
Here is a mystery. Here the wise men of the world are lost, are taken in their own craftiness. This the learned of the world cannot comprehend. It is foolishness unto them: Sin is the only thing which divides men from God. Sin (let him that heareth understand) is the only thing which unites them to God; that is, the only thing which moves the Lamb of God to have compassion upon, and, by his blood, to give them access to the Father.
This is the 'word of reconciliation' which we preach. This is the foundation which never can he moved. By faith we are built upon this foundation; and this faith also is the gift of God. It is his free gift, which He now and ever giveth to every one that is willing to receive it. And when they have received this gift of God, then their hearts will melt for sorrow that they have offended Him. But this gift of God lives in the heart, not in the head. The faith of the head, learned from men or books, is nothing worth. It brings neither remission of sins, nor peace with God. Labor then to believe with your whole heart. So shall you have redemption through the blood of Christ. So shall you be cleansed from all sin. So shall ye go on from strength to strength being renewed day by day in righteousness and all true holiness."
Which is rather nice.